Welcome to everybody!
Today we open up our blog and the first thing we want to say is that we hope it is going to be a shared space for all of us. Our intention is to create a bidirectional communication channel at your disposal, and that you comment, write posts, ask questions and help us to give it shape and direction!
Nowadays, it is seemed that being innovative leads to victory, so let's see if we know how to surprise and we're lucky.
Here's our first suggestion for the more daring. Let's surprise!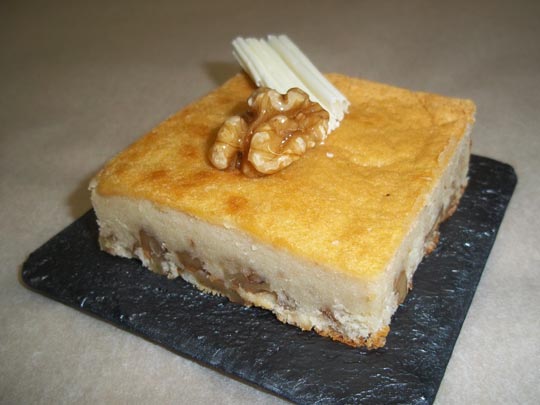 Cheese Brownies
 Ingredients (for a mold of 30 x 30 x 3.5 cm):
250 gr. MONTSEC pasteurized full fat cheese
38 gr. MONTSEC butter
326 gr. of sugar and 3g. of salt
310 gr. liquid egg
145 gr. white cove
115 gr. flour
230 gr. chopped walnuts
Procedure:
Mix the cheese tempered, the butter cream with sugar and salt until having a fine homogenous cream.

Add the tempered eggs gradually until the dough ab¬sorbs them. Add the melted coverage not exceeding 35 º C.

Add the flour, previously sieved, and mix. Then add the chopped nuts.

Fill molds lightly greased and bake at 145 ° C in a ventilated oven during 25 – 30 minutes.

Once cool, unmold and cut into square pieces. Decorate with white chocolate and nuts.

Ready to eat!