The 25th, 26th, 27th and 28th April was held at the Alimnetaria Fair in Barcelona. We were very lucky being able to visit it and this will be a short written to those who have not been able to attend. The Fair was composed of six different halls, separating the different themes: Interlact, Intercarn, Intervin, International, multiproduct and Restaurama. In each of them, there were stands of manufacturers, distributors, importers and exporters of various products: beverages, frozen foods, biscuits and confectionery, olive oil and vegetable oils, seafood, wines and sparkling wines, fruits and vegetables, pastry, ice cream, desserts and chocolates, and much more.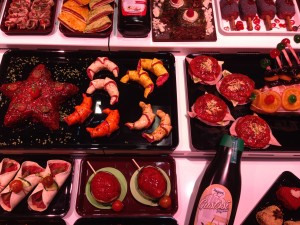 In addition, there were some areas where visitors can live experiences in the Fiar. There were The Alimentaria, a key area for operators in the food chain in search business activities; The Food Experience, a place where the visitor is the protagonist of unique dining experiences.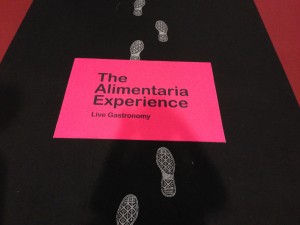 Another area was Vinorum, where the latest developments in the sector were displayed. It was full of renowned experts, wine critics, wine experts, masters of wine, sommeliers and chefs who give lectures and tastings. Other areas that caught our attention were Spain, the country of the 100 cheeses, a guided tasting of more than 100 different cheeses or the Gourmet olive oil bar, a self-guided tasting of oils through fact sheets to discover some of the best extra virgin olive oils produced in the world.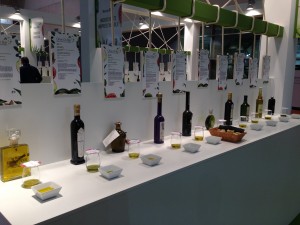 GOURMET OLIVE OIL BAR
Of the six halls that were there, we will focus primarily on Restaurama together with The Food Experience, as we believe that is what most interests you.
Restaurama is the pavilion of reference in Europe for professionals and companies linked to the foodservice industry. This exhibition showcases new products, different formats and different management solutions for the foodservice industry, as well as to discover trends in catering and identify business opportunities. We found exhibiting companies such as Nestle, Damm, Makro, Unilever, Coca-Cola, Electrolux, Mammafiore or Font Vella. This year for the first time incorporated into new segments such as confectionery, bakery and ice cream shops.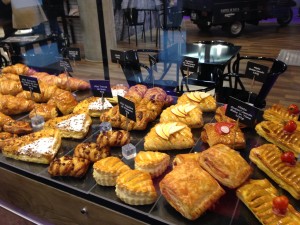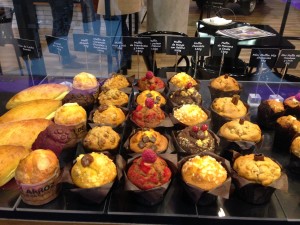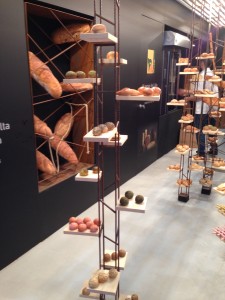 PA SOLÀ STAND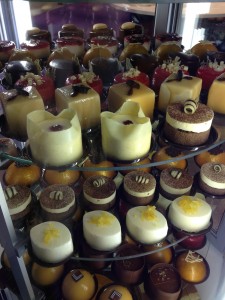 Along with all these great brands and their introduction of their best products, there was The Food Experience, which include culinary  workshops, where chefs with Michelin stars such as Ángel León (Aponiente, Cádiz), Mario Sandoval (Coque, Madrid) or Camarena Ricard (Ricard Camarena Restaurant, Valencia) share workshops with international chefs like Virgilio Martinez (Central) or Mauro Colagreco (Mirazur). Joan Roca (El Celler de Can Roca, Girona) is the catalán representative of the event.
There were other chefs demonstrations, where visitors can learn new culinary techniques and cooking.
And there were also tastings, introductions and demonstrations of new techniques and new products.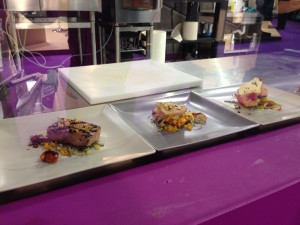 SHOWCOOKING WEDNESDAY  27th
The talk that caught more outh attention was the Food Bloggers Conference held in The Alimentaria Hub where were meeting in the same space professional bloggers and brands with the aim of strengthening their relationship and set common respective expectations. With the co-operation Cristina Martinez the program included panel discussions, interviews and the participation of international bloggers, who gave their point of view of the sector and the trends that would shape the evolution of the industry in the coming years.
We loved seeing Montsec products displayed on stands of our distributors, and our image as part of their own stand.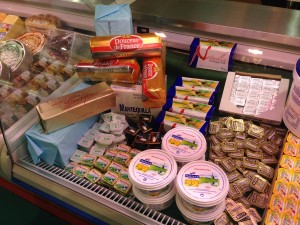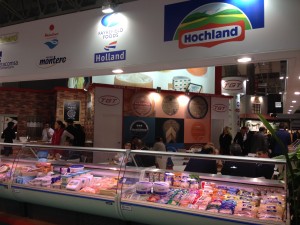 MONTSEC PRODUCTS IN ALIMENTARIA 2016
And finally, one of the products that caught more our attention were these lollipops, a new frozen snack easy to use for foodservice and catering. These lollipops have different flavors: gin and tonic, foie with chocolate, foie with figs, cheese with quince, salmon with cheese or potato omelette. This product is sold in boxes of 4 trays of 40 units each, frozen. You have to let thaw for 30 minutes before serving.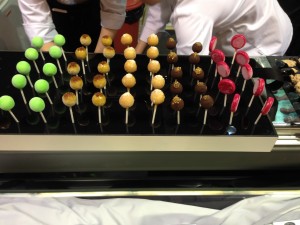 DIFFERENT LOLLIPOP
As always we say, let's innovate, people do not stop doing it!