Kalettes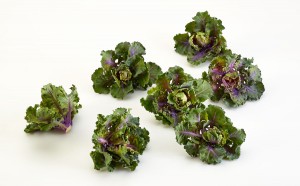 Flower Sprouts are a vegetable that has been obtained from the crossing of the famous Kale cabbage and Brussels sprouts and offers the best nutritional and organoleptic properties of each. They've been two years in the UK and US market, has a very small size (fits in the palm of the hand) and you can eat and cook in the same way as other cabbage varieties: roasted, raw, boiled and steamed.

Sushi burritos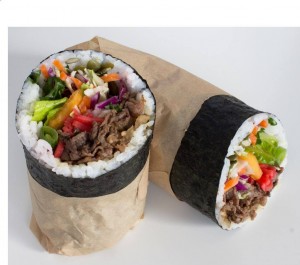 To satisfy those who like sushi and Mexican food, has been created sushi burritos. In NY there are many restaurants that are selling these burritos. It seems to have become a another casual dining option. They can be made with tortillas and nori, they can be filled with rice with seafood (salmon, tuna, prawns, surimi …) or meat (chicken, beef, pork …) and vegetables (such as lettuce, mushrooms, cabbage, jalapenos, avocado, carrot, corn …) and sauces such like soy, teriyaki, curry, mayonnaise, etc.
The donuts sushi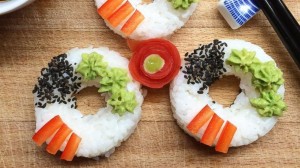 It is a donut made with rice and some of the ingredients that traditionally people use to make sushi. Each time the sushi is having more Western adaptations: we add sauces, the seaweed goes inside instead of outside, we use cooked ingredients, it is made with new ingredients (chicken, duck …) and it is clear that not only that, we change them the shape!
Push push up cakes or cake pops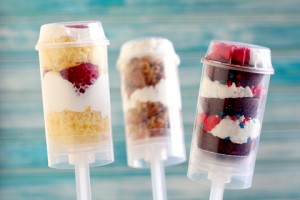 The push up cakes are single layered cakes, consisting of a (basic, chocolate, almond, brown …) cake and frosting or cream inside (whipped, chocolate, custard, fruit …) and further added natural fruit, chocolate balls, nuts. They are introduced into cylindrical containers with a stick which allows the one who is eating it to push the cake up.
The pizza burger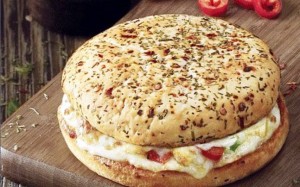 Domino's Pizza (in India) has introduced the first hybrid between a hamburger and pizza. This is sold as a burger with the features and benefits of the pizza (basically, it is baked). Speaking of fast food, it seems necessary to reinvent itself in order to capture the attention of consumers.
The burger made with protein derived from insects
Continuing the theme of hamburgers, a study carried out in Belgium by experts from the University of Gante, concluded that foods made with proteins derived from insects can be accepted by consumers. This conclusion is derived from the tasting burgers with insect proteins, vegetable proteins and meat in which 97 people participated. The tasting had a blind part, another part having information about the product and other observing the product. They should rate the taste, the perceived quality, and also describe their sensory and emotional reaction they had during the tasting. The beef burgers won the tasting, but the insects ones were accepted by consumers. When they were told about where they become, they liked the idea. What is true is that insects produce rejection almost everyone so the appearance of the burger should not resemble anything like what it really is. They should also improve their organoleptic characteristics (the insect protein is not as juicy as the meat and this is very important in showing a preference against the other.)
Well guys, we close with these curiosities, and as we always say: Let's innovate!