Some of you have already been on vacation, others will still have time to wait, perhaps others will not take a vacation this year or they just won't travel… For this reason, this post will serve to give us an idea about which are the strangest restaurants you can find in the different holidays destinies and it may works as an inspiration to schedule vacation next summer.
We have been amazed at the culinary possibilities that one can find in the world, according loquenosabias.com.
Japan. Nyotaimori
Nyotaimori is the name of a restaurants' chain which serve food on the nude body of Japanese models. It is a practice that combines eroticism and Japanese cuisine in a unique experience. It basically consists of using the naked body of a beautiful and sexy woman as a human tray when serving food. There is also a technique called Nantaimori, consisting of the same practice but on the body of a man.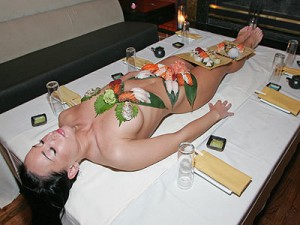 Poland. Eternity restaurant
The Eternity Restaurant is the restaurant of a funeral in Truskavets city. Its peculiarity is that it is shaped like a giant coffin. In fact it is the world's largest coffin. The menu offers dishes such a salad named 'see you in paradise' and decorating individual candles, wreaths and funeral caskets to give a funeral environment.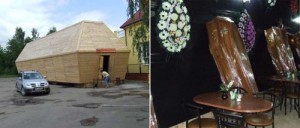 Arizona, USA. Heart Attack Grill
In this restaurant are served the biggest hamburgers and the most calorie dishes imaginable. For this reason the slogan of the site is "a flavor that is worth dying for." Basically, they prepare extra large and very greasy burgers accompanied by fries, soda, beer and Marlboro cigarettes. A meal at this restaurant contains approximately 8000 calories. If the weight of diners are over 150 kilos, they eat for free, and if you take a quadruple by-pass (four burgers) and you get finished, the sexy waitresses take you to the car in a wheelchair.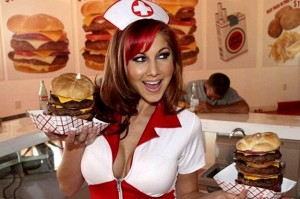 Taipei, China. The Marton
This restaurant simulates a giant sink. You sit at the table as if you were doing your needs in a toilet. Instead of tables and chairs you find sinks and toilets to enjoy a dish served in a cup of water.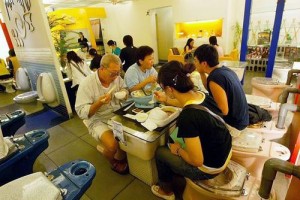 Maldive Islands. Eetha
Another option would be to go to the Maldives to this restaurant located a few meters below sea level, the first underwater restaurant. This restaurant belongs to the Hilton hotel chain and offers visitors the chance to enjoy a panoramic 270 degree view of the ocean.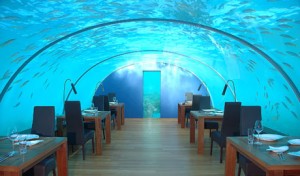 Barcelona. Dans Le Noir
We can also stay around here and visit the restaurant Dans le Noir (there are another in Paris, London, New York and St. Petersburg). This has the peculiarity that people eat completely dark. They say the other senses that are not the sight, get maximized and the taste, smell and texture of the dishes are more appreciated. All the waiters working in the place are blind, as the restaurant was created to demonstrate that blind people can also work in the restaurant business.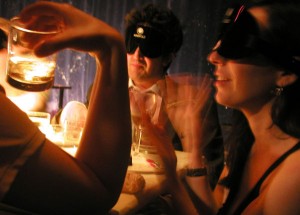 Brussels, Belgium. Dinner in the Sky
This restaurant, as its name suggested, serve food to 50 meters from the ground, suspended by a crane. They serve food from around the world and the dinner for 8 guests costs about 8,000€. Maybe we should leave this destiny for some years after. You can include an additional service, the Showbizz, a second crane with a platform to deliver entertainment of various kinds, for example, a piano concert.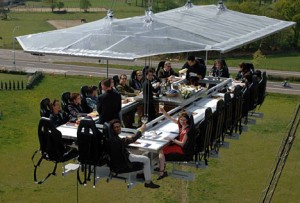 Thailand. Cabbages and Condoms
The name of this restaurant chain means "Cabbages and Condoms". The restaurant features are based on condoms and pictures of condoms printed on the carpets. At the exit, they offer to the diners a dish of condoms. A percentage of the profits goes to AIDS associations.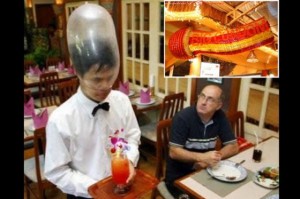 Singapore. The Clinic
The Clinic is an Asian bar where nurses will cater you. You can have a drink sitting in a wheelchair, near a cold operating table or a cocktail drink in a saline bag. Its entrance is through a section called emergency reception, rooms have names such as morphine for the dance floor or anthrax for the decorated bar with armchairs in pill form, etc.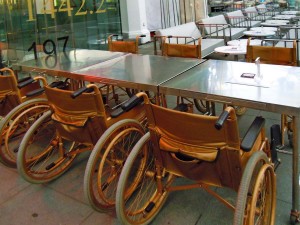 Beijing, China. Cool Zen
Finally, another option would be to go to Beijing. There is a restaurant decorated like a prison. It has a large steel structure in the entry as a prison and doors and windows with bars and chains inside. The waiters are dressed as prisoners and serve food in the typical prison trays.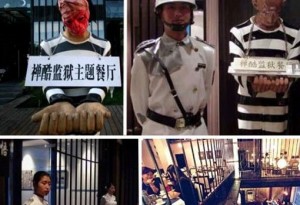 This has been our world tour without leaving home. Now all we need to do are two things: deciding where to go on vacation next year and think to see if any crazy idea as the ones we have seen occurs to us. Let's innovate!