On Friday 20th, after four hours of deliberation it was decided that the Sachertorte cookie of Hofmann pastry from Barcelona was the winner of the first contest of the best tea biscuit (Spain 2015).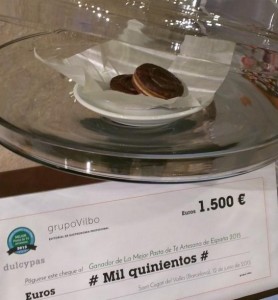 The jury was composed by Paco Torreblanca, Ramon Morato (director of the Chocolate jury Academy of Barcelona and author of Chocolate), Oriol Balaguer (Oriol Balaguer Pastries in Barcelona), Carles Mampel (Bubo in Barcelona), Yann Duytsche (Dolç Patisserie in Sant Cugat del Valles), Olivier Fernandez (director of School of Confectionery Guild of Barcelona), Jose Romero (teacher of School of Pastry Guild of Barcelona), Llarás Joaquin (Quim pa! in Vilanova), Enric Navarro (specialized on tea biscuits) and Manel Fernandez (technical advisor in Dulcypas magazine) and they said about the winning tea biscuit that it stood out for its balance between adjusted flavor and exceptional performance and finish.
The members of the jury did a blind tasting of 150 types of artisan tea biscuits that play in the competition.
Ortuño Eric Mey Hofmann and were responsible for collecting the prize.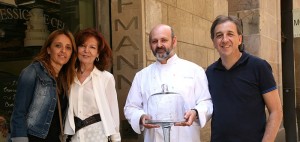 Here you have a video made by the Vilbo Publishing, the organizer of the contest, in which we can listen to some members of the jury and the event summarized. Do not miss it!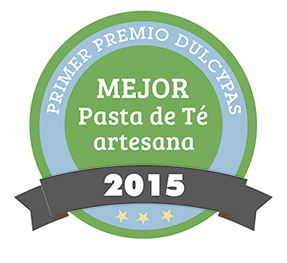 Congratulations to the winner and to all others who participated. This is the spirit.
As we always say, let's keep innovating!