Hello friends!
We wish you a happy 2015 entrance and we really thank you that all of you continue with us.
We hope that holidays with your relatives have been great and that there have been many gifts and many sweets.
We take this opportunity to inform you that we have put at your disposal the cookbooks with recipes made with our quark cheese and full fat cream cheese collecting all the recipes that we have been offering over recent weeks. Now the cookbooks can be downloaded from our homepage.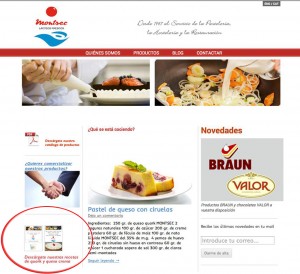 Also, as a novelty, you may have seen that we have BRAUN brand products. Here you have a link so you can see the large variety of product that now we offer you: http://www.martinbraun.es/productos.php
We hope you like it and that all of you want to try them all!
Happy new 2015 again and thanks for everything!